Each of the machines here is a fantastic piece of equipment, but cut 'em down and what qualities stand out.
Summary
Craftsman 17ARFACT091 [ Best Ease to Use ]
Cub Cadet Pro Z 560 L KW [ Best for Fuel Capacity ]
Ariens Edge 52 Inch [ Best Deck ]
Swisher Big MOW [ Best for Night Work ]
Husqvarna MZ61 [ Best for Safety Options ]
Mowing the lawn is a normal part of life. For some, it's an enjoyable part. For others, it is more of a chore. Personally, the idea of having to push a mower around on what is supposed to be my off day is something I dread.
Like any other job, though, having the right tools at your disposal can make a big difference. And a commercial riding mower is just such a tool.
Commercial vs. Residential Lawn Mower What's the Difference?
Commercial mowers are those typically used by lawn care companies, though they are beneficial for many homeowners. As they are built for professional use, they are made to work faster, more efficiently, and more often than a residential mower.
So how does a commercial mower help a homeowner? They can cut your mowing time in half or more, for one. They can also cut through tough patches of grass that a residential mower might not be able to handle.
If these advantages sound good to you, keep reading. We're going to talk about who can truly benefit from a commercial mower, what features to look for when shopping for one, and some of the top choices on the market.
When Should You Consider a Commercial Mower?
Choosing a commercial mower is completely up to you. However, there are some common signs that a commercial mower would be more beneficial for you.
Your Lawn is Full of Hills and Difficult-to-Cut Areas
It can be difficult enough to cut a flat lawn with a push mower or a low-quality riding mower. When you have a lot of land, a lot of slopes, or thick patches of grass, it can be even harder.
A commercial mower can go a long way in easing your lawn care burden.
You Want to Spend Less Time Mowing Your Lawn
Let's be honest: no one wants to spend several hours each week keeping their lawn cut. Even if you enjoy yard work, too much is simply too much.
If you spend more than an hour or two each week mowing grass, it's time to consider a commercial mower.
You Want Clean-Cut Results
Not everyone cares about the actual look of their lawn. As long as it's not too high, they are satisfied.
However, if you hope to achieve a clean-cut, uniform appearance, residential mowers are not typically the answer. Commercial mowers are equipped to provide a professional look.
What to Look for When Buying a Commercial Riding Lawn Mower
If you choose to buy a commercial riding mower, you'll want to consider your lawn and your needs. The following are some of the main features to take into account when comparing options.
Comfort
You are going to be sitting in that mower's seat for a while, so you want to be as comfortable as you can. Choosing a high back cushioned seat can help reduce pain, fatigue, and pressure on your joints.
Safety
Operating and even being near any motorized vehicle poses risks, so it's important to have a mower with safety features. One of the most important is a seatbelt, but many mowers have many other safety options.
Ease of Use
You don't want to spend as much time starting and fighting with your mower as you do actually cutting the grass. Look for easy controls and zero-turn machines, along with any other feature you feel would make your mowing days simpler.
Surface Area
Commercial mowers come in a variety of cutting deck widths. Under most circumstances, you probably want a mower with a wide deck. However, if you have tighter spaces to fit through, be sure you take that into account.
Fuel Capacity
This is pretty simple. How much fuel do you need to cut your lawn? And how many times are you willing to stop to fill up the tank while working? These answers can help you decide which mower you prefer as they typically offer different sizes of fuel tanks.
Durability
The truth is that while you are cutting grass, your mower is going through some tough stuff. And it can be easy to run into things, including tree stumps and even fence posts.
Due to this, you want something that can withstand a beating. Many mowers, such as those listed below, are made with very strong and durable decks for just such purposes.
5 Top Commercial Riding Mowers
There are many commercial riding mowers on the market, but we feel the following five are some of the best. Take a look and compare.
Cub Cadet Pro Z 560 L KW
Best for Fuel Capacity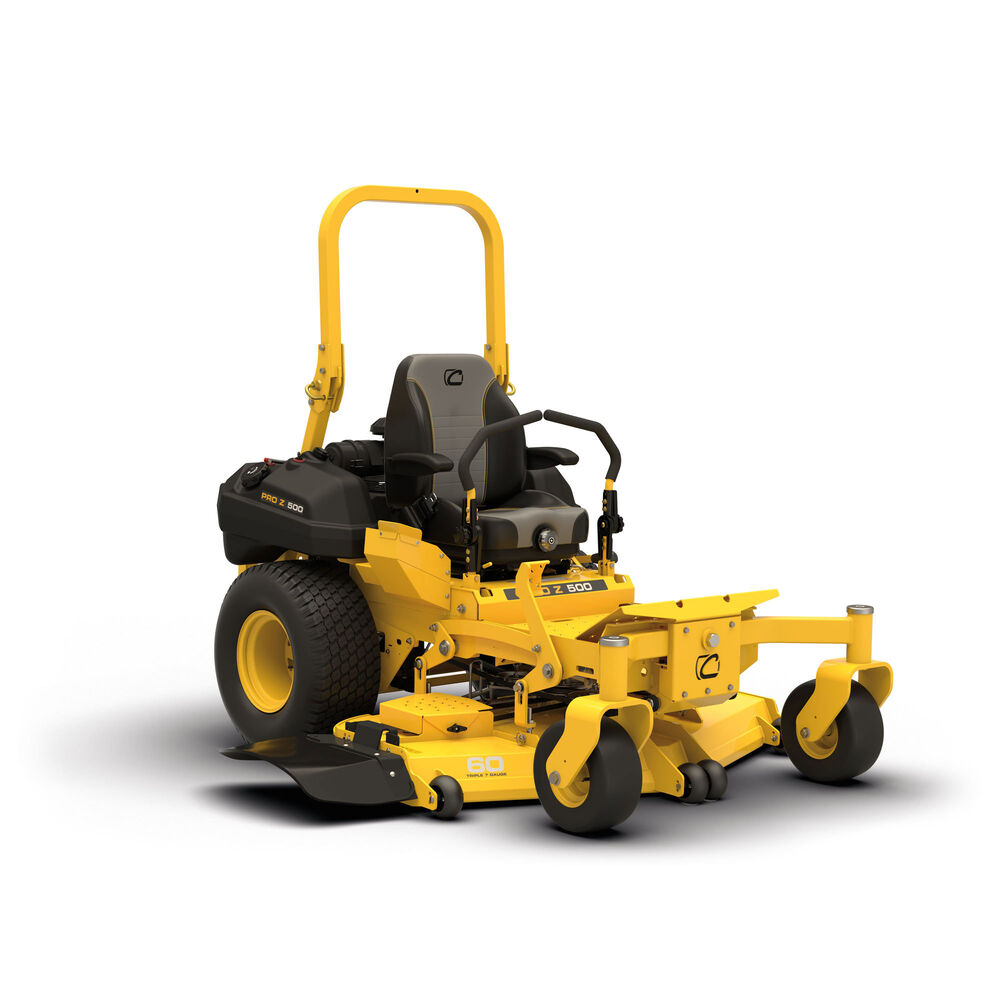 The Cub Cadet Pro Z 560 L KW comes equipped with a powerful 27 HP Kawasaki engine. This engine provides great speeds of up to 10 mph in forward motion and up to 5 mph in reverse.
This commercial mower is a zero turn machine that provides easy maneuverability around obstacles. It has a 60 inch wide cutting deck made from 7 gauge fabricated steel. It covers a lot of surface area while being nearly indestructible, so it's okay if your kid or you happen to accidentally drive into a fence.
The Cub Cadet Pro Z 560 L KW also has a high back cushioned seat that keeps the driver comfortable and less fatigued. There is a seatbelt and a cup holder so that you can stay safe and hydrated. Additionally, it has two 7.45 gallon tanks, letting you work longer without so many stops.
The downside is that some buyers have reported transmission failure and stripped tire threads soon after purchase. However, there's a three year limited warranty and a five year or 1,750-hour limited deck construction warranty. If you run across any issues, you should be covered.
Pros:
Powerful Kawasaki engine
Easy to maneuver
Made from strong steel
Comfortable seating
Up to 10 mph
High fuel tank capacity
Handles flat and sloped land
Cons:
Transmission might break down quickly
Tire threads may be stripped
Best for Easy Start
The Craftsman 17ARFACT091 is designed with a 23HP Kohler twin-cylinder engine that provides easy and reliable starting. There is no prime and no choke. If you follow the directions carefully, you can start your Craftsman with ease.
Once you have it going, you'll have a zero turn engine with a 46-inch alloy steel deck. It provides great cutting power with heights from 1.25 inches to 3.75 inches.
Unfortunately, it only comes with a 3.5-gallon fuel tank. However, there is a two year limited warranty if you run into any trouble with your machine.
Pros:
Easy start — no prime/no choke
Zero turn for quick maneuverability
Comfortable high-back seat
Adjustable cutting height — 1.25 inches to 3.75 inches
46-inch alloy steel deck
Can fit with accessories, such as mulchers and baggers
Cons:
Difficult starting if you do not follow directions carefully
Long delivery
Small fuel tank
Best Deck
The Ariens Edge commercial mower comes with a 726cc Kawasaki engine, which is powerful enough to get the job done. It is another zero turn machine, ensuring the ability to turn on a dime if necessary.
The 52" deck is made from a fabricated 11 gauge steel deck, so it's very tough. It is also equipped with a foot-operated deck lift, which can be convenient.
Unfortunately, the deck lift can be slightly complicated. It takes several steps to be able to lift the deck.
Another disadvantage is the fuel tank size. It only holds two gallons at a time, meaning you'll have to stop more often to refill while you work. And finally, the seat is comfortable, but it's a bit narrow.
Pros:
Comfortable high back seat
Zero turn
Foot-operated deck lift
Tough 11 gauge steel deck
Two year or 150-hour warranty
Cons:
Bolts come loose quickly
Small fuel tank
Deck requires several controls to operate
Narrow seat
Swisher Big MOW
Best for Night Work
Ever find yourself running out of daylight before you run out of grass to cut? The Swisher Z3166CPKA Big MOW can handle this problem for you as it comes with dual LED headlights. Now, you can finish up your work no matter where the sun has gone.
If that's not enough, the Swisher Z3166CPKA Big MOW comes with a powerful 31 HP Kawasaki engine that moves up to 10 mph. And the mulching blades easily cut through thick grass, making quick work of your lawn.
This mower comes with a 66 inch cutting width. The deck allows for electric adjustments to cut grass from 1.25 inches to 5 inches. There is also an eight gallon fuel tank and an hour meter that tells you when it's time for maintenance.
Pros:
Speeds up to 10 mph
Electric deck height adjustment and tilt-up
1.25 – 5 inch cutting height, 66 inch width
8 gallon fuel capacity
Hour meter
Mulching blades to cut thick grass
Dual LED headlights for evening work
Cons:
Not great for steep slopes
Best for Safety Options
The Husqvarna MZ61 provides a great combination of power, speed, quality, and safety. It starts with a 27 HP Briggs & Stratton engine. While some other options listed here are equal to or slightly more powerful, this engine is a great addition to the other benefits.
Its deck provides a 61 inch cutting width and up to 4.5 inch cutting height. The deck is made from 11 gauge steel, making it one of the toughest options on this list.
The Husqvarna MZ61 really shines, though, with its safety system. The engine will not start unless the driver is in the seat and the deck is disengaged. This alone can prevent several accidents.
Additionally, the steering must be in neutral, and the parking brake must be on to start the mower. If you'd like, you can add on a rollover protection system that provides even more safety.
There are a few disadvantages. It only holds 5 gallons of fuel, which puts this fuel tank in the middle of the options listed here.
Some buyers found that they have to tighten parts often as they come loose easily. Lastly, going down steep slopes can be risky, so you should take care when riding your Husqvarna downhill.
Pros:
27 HP Briggs & Stratton engine
Ergonomic, high back seat and armrests
11 gauge steel deck with 61" cutting width
Optional rollover protection system
Cuts up to 4.5 inch
Easy pull parking brake and safety system
Cons:
Only 5 gallon fuel tank
Parts come loose easily
Not so great going down steep slopes
Commercial Mowers Frequently Asked Questions
.